In a press release issued on Wednesday, Zoho announced that its e-commerce platform, Zoho Commerce, will support the integration of ONDC, allowing both new and current clients to set up online storefronts.
We have joined the government's e-commerce platform Open Network for Digital Commerce as a technology service provider to help customers leverage ONDC to reach a broader audience. Our e-commerce platform Zoho Commerce will allow sellers and its existing customers to set up online stores quickly and on-board the open e-commerce network. .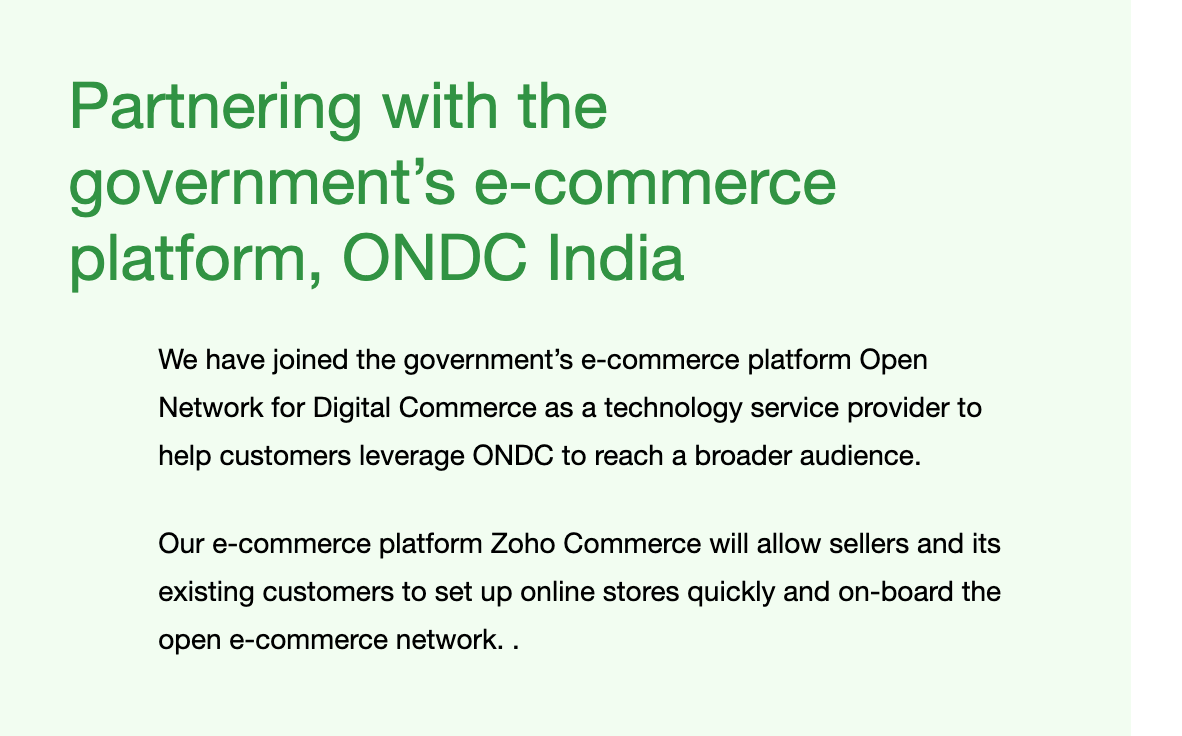 Open Network for Digital Commerce (ONDC) is the government's e-commerce network, and software as a service (SaaS) giant Zoho has joined as a technology service provider to enable businesses use ONDC to expand their reach.
In a press release issued on October 26th, Zoho said that its e-commerce platform, Zoho Commerce, would make it easy for both new and current clients to swiftly create online stores and join the open e-commerce network.
"Our hope is that ONDC would level the playing field for small firms and other vendors, who have been largely left out of the industry's expansion in recent years. Businesses can have an online store up and running and promoted on ONDC in no time with the help of a powerful platform like Zoho Commerce "according to Anand Nergunam, Zoho Corp.'s Vice President, Revenue Growth.
Dukaan App, an e-commerce platform, recently made the statement that it will be merging with ONDC to provide a more fair playing field for both large and small enterprises.
An extensive digital commerce initiative backed by the government launched in September in Bengaluru and is expected to launch in Delhi in November.
With the growth of the sector, the government is considering paying for an e-commerce policy. A recent analysis by the industry association Ficci predicted that by 2026, India's e-commerce business will be worth $120 billion, up from $38 billion in 2021.
According to Zoho's announcement, ONDC, an initiative of the ministry of commerce, would allow vendors to access this huge market by providing an open and safe platform that brings together a wide variety of vendors, purchasers, and logistics providers.
"We're happy to be working in tandem with technology service providers like Zoho to expedite and improve the end-to-end ecosystem experience and make digital commerce available to a broader audience of consumers and sellers throughout India," said T Koshy, CEO of ONDC.
He also said that ONDC would keep expanding the range of products and services available to consumers through the internet and lowering the barriers to entry for vendors.
With just one click, Indian merchants using Zoho Commerce can join ONDC and provide their wares exposure across different channels.
According to the release, Zoho Commerce will help shops get set up with ONDC and connect their stock with buyer-side apps.
In addition to training vendors on the open network, the business is dedicated to assisting them in becoming digitally empowered, it stated.
Zoho said it plans to onboard more products from its portfolio, such as Zoho Books and Zoho Inventory, in the coming months in an effort to support and improve the e-commerce ecosystem in the nation.